Community Support
Our Company's philosophy is all about paying it forward. Not only does our company profit share with our staff, we also support our local community. At Red Truck Roofing, we are proud to be involved with the following charities and organisations – When we prosper, so do our staff, our subcontractors and our local charities.
---
2016 Variety Children's Christmas Party
Red Truck Roofing Pty Ltd are an executive sponsor of the 2016 Variety Children's Christmas Party.
The aim of the Special Children's Christmas Party is to provide in excess of 3,000 children with a day they will never forget.
The children come from four major groups: The terminally ill, the intellectually impaired, physically impaired and also the underprivileged who may be suffering from domestic violence or physical abuse. Children arrive from all over South East Queensland, from as far north as Bundaberg, west to Roma and south to Tweed Heads.
---
The Cage Youth Foundation @ Redland Bay
Driver Prepare Program – Assisting local young people with logging their required driving hours.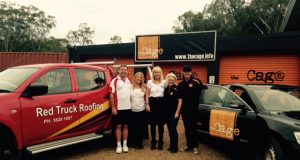 From the donation of a vehicle from Yellow Cabs, funding from Red Truck Roofing and support of a local retired police officer who volunteers his time, The Cage Youth Foundation was able to established the driver prepare program in early 2016.
With the number of young people that are assisted through their programs, a need was identified that for many, due to their personal situations, were unable to obtain support in securing the required amount of driving hours required to secure their license and, a license being a necessity in many cases for securing a job.
---
Orange Sky Laundry
Red Truck Roofing Pty Ltd proudly donated funds to enable Orange Sky Laundry to do one day's laundry per month.
Orange Sky Laundry is the world's first free mobile laundry service for the homeless. A crazy idea in 2014 to put two washing machines and two dryers in a van and wash and dry clothes for free. Starting in the streets of Brisbane, Orange Sky has now grown to 10 services across Australia in Brisbane, Gold Coast, Melbourne, Sydney, Sunshine Coast, Canberra, Perth, Adelaide, SE Melbourne and Hobart. Orange Sky Laundry now does over 6.9 tonnes of laundry every week. However most importantly, has over 1,300 hours of positive and genuine conversations every week.
---
Animals Australia – the voice for animals
Red Truck Roofing Pty Ltd is proud of its stance on animal cruelty and will continue to financially support Animals Australia.
Animals Australia is the leading animal protection organisation in Australia. Their investigations and campaigns are recognised throughout the world. Their aim is to unite millions of people who believe in a world where animals are free from cruelty.
"Animals Australia's vision is a world where all animals are treated with compassion and respect and are free from cruelty. We believe that we can create a kinder world for all by fostering respect for animals and that our treatment of animals reflects who we are as individuals and as a society…"
---
German Shepherd Rescue Home in Logan
Red Truck Roofing Pty Ltd provided 30 metres of fencing and gates for their kennels, new guttering and the funds to purchase donation boxes.
Unlike many canine rescue centres which simply take dogs that are easy to adopt, GSDSinneed do not discriminate against the GSD's that need help. GSDSinneed work alongside pounds and shelters to rescue the dogs that are not immediately suitable for adoption due to medical or behavioural issues. They also offer a private surrender service to the general public.
---
Rural Fire Brigade
Pat Doolan, the owner/director of Red Truck Roofing was an auxiliary fireman for 15 years and volunteered for duty when the tragic Canberra bushfire struck in 2003 that saw 70% of the ACT pastures, forests (pine plantations), and nature parks destroyed. Whilst Pat is no longer a auxiliary firefighter, he continues to financially support the Rural Fire Brigade.
---
Queensland Surf Life Savers
Pat Doolan, the owner/director of Red Truck Roofing believes the Queensland Surf Life Savers is a great avenue for youth and financially supports their great work
Surf life saving exists to save lives, create great Australians and build better communities. Australia has over 11,500 beaches dispersed along 36,000km of coastline with Australian beaches receiving an estimated 100 million visits annually. With over 160,000 members and 313 Surf Life Saving Clubs across Australia, Surf Life Saving is the largest volunteer movement of its kind in Australia.
Surf Life Saving Lotteries rais much needed funds for Surf Life Saving in Australia, through the sale of lottery tickets. The owner of Red Truck Roofing belongs to the loyalty program and has been a supporter for over 10 years.