Community Support
Ethical business practices and social responsibility are at the core of our company. As the owners of Red Truck Roofing, we firmly believe that one of the greatest values every company should nurture, is the ability to give back to their staff and community. We know that cultivating a positive company culture and giving back go hand in hand.
Our giving strategy focuses on three sectors:
1. Our Staff & Crews;
Profit sharing with our staff means they have a vested interest in the company and gives us confidence that we know they are going to go the extra mile for our customers.
We also choose to support charities that our employees have a particular affinity with. By involving our employees, this further assists in helping to engage them in our company values.
2. Our Local Community; and
We believe businesses everywhere have the resources and reach to provide a positive impact in their communities. We are proud to partner with trusted organisations which do so much to strengthen our local community.
---
The Cage Youth Foundation @ Redland Bay
who are The Cage? …
The Cage Youth Foundation is a self funded charity providing information & support for young people & their families in Redlands City & Bay Island Area .
Some of the services they provide are:
Kids Club , Work for The Dole, Get Set for Work Courses, Counselling , School Workshops & Programs , Community Engagement Events, Fundraising Events, Youth Suicide Prevention Support & Awareness, and much, much more.
The Cage are there to, Go & Make a difference in this Community!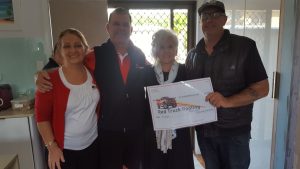 Our Offices hrs are MON-THURS 8am -4pm
ph: 07 38292644
---
Orange Sky Laundry / Orange Sky Showers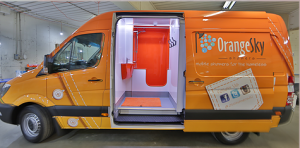 Orange Sky Laundry is the world's first free mobile laundry service for the homeless. A crazy idea in 2014 to put two washing machines and two dryers in a van and wash and dry clothes for free. Starting in the streets of Brisbane, Orange Sky has now grown to 10 services across Australia in Brisbane, Gold Coast, Melbourne, Sydney, Sunshine Coast, Canberra, Perth, Adelaide, SE Melbourne and Hobart.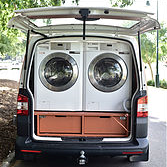 Orange Sky Laundry now does over 6.9 tonnes of laundry every week. However most importantly, has over 1,300 hours of positive and genuine conversations every week.
The brand new orange sky showers van is custom fitted with 2 showers, self sufficient heating, water tanks and it will partner with our Orange Sky Laundry vans and other essential service providers to better connect the community.
---
Night Ninja's – Supporting the Redland City Homeless Community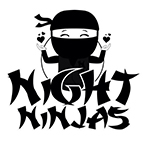 After meeting Alix Russo and hearing her story as to why she started the Night Ninja's, we just had to come on board and help out.
Night Ninja's Australia is a Not-For-Profit Organisation that focusses on helping people who are experiencing homelessness. They have crews of people who go out on the streets to provide essential items to those that need it most – food, blankets, clothing, toiletries and other essentials. They also offer referral assistance to organisations that can provide emergency housing and other forms of assistance.
Red Truck Roofing is so proud to be associated with Night Ninjas, and the wonderful, hard and emotional work they do each and every day!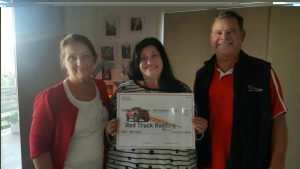 Thank you Night Ninjas!
---
Redland Bay Men's Shed
The Australian Mens Shed Association (AMSA) is a community-based organisation that is accessible to all whose primary activity is the provision of a safe, friendly & supportive environment.
Members are able to work on meaningful projects at their own pace, in their own time, and in the company of others. A key focus is to advance the well-being and health of its members & to encourage social inclusion.
After being given the opportunity to quote on the roof for the Redland Bay Men's Shed, and winning the quote due to being the cheapest price, we thought it would be a fitting gesture to donate some much needed funds.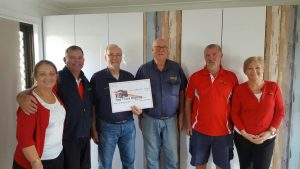 ---
Rural Fire Brigade                                
Pat Doolan, the owner/director of Red Truck Roofing was an auxiliary fireman for 15 years and volunteered for duty when the tragic Canberra bushfire struck in 2003 that saw 70% of the ACT pastures, forests (pine plantations), and nature parks destroyed. Whilst Pat is no longer a auxiliary firefighter, he continues to financially support the Rural Fire Brigade.
---
Queensland Surf Life Savers 
Pat Doolan, the owner/director of Red Truck Roofing believes the Queensland Surf Life Savers is a great avenue for youth and financially supports their great work
Surf life saving exists to save lives, create great Australians and build better communities. Australia has over 11,500 beaches dispersed along 36,000km of coastline with Australian beaches receiving an estimated 100 million visits annually. With over 160,000 members and 313 Surf Life Saving Clubs across Australia, Surf Life Saving is the largest volunteer movement of its kind in Australia.
Surf Life Saving Lotteries rais much needed funds for Surf Life Saving in Australia, through the sale of lottery tickets. The owner of Red Truck Roofing belongs to the loyalty program and has been a supporter for over 10 years.
---
3. Our compassion to animals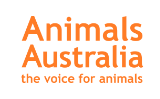 Animals Australia – the voice for animals
Red Truck Roofing Pty Ltd is proud of its stance on animal cruelty. Each year we will continue to financially support Animals Australia and help give the animals a voice against inhumane treatment.
Animals Australia is the leading animal protection organisation in Australia. Their investigations and campaigns are recognised throughout the world. Their aim is to unite millions of people who believe in a world where animals are free from cruelty.
"Animals Australia's vision is a world where all animals are treated with compassion and respect and are free from cruelty. We believe that we can create a kinder world for all by fostering respect for animals and that our treatment of animals reflects who we are as individuals and as a society…"
---
Redlands Animal Shelter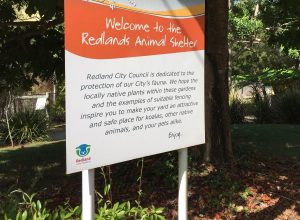 This year, Red Truck Roofing have been able to assist the shelter with, the purchase of gift vouchers from Pet Barn, for food, and also supplied winter coats for the shelter dogs.
Cassie was able to attend our Annual Donation Day with Karma, one of the rescue dogs awaiting adoption.
Redland City Council's animal shelter provides a safe environment for homeless, lost or abandoned animals. Their lost and found animal service helps minimise the risk to our pets and any adverse impact on the community and the environment, by keeping lost animals off the streets.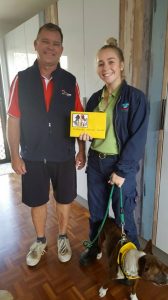 Animals that are surrendered or impounded and not claimed by their owners are given a second chance to find a new family home through our adoption program.
They also run a volunteer program for people interested in offering their time to assist at the animal shelter.